SAFE, FUN, AND LEAD BY EXPERIENCED INSTRUCTORS
LEARN HOW TO SAFELY BACKFLIP, SIDEFLIP, AND FRONTFLIP FROM EXPERIENCED INSTRUCTORS
Our certified parkour coaches have designed a curriculum that will help you learn how to properly and safely prepare for fundamental flips.  In the course you'll go over the proper progressions for each flip, have access to mats, an airbag, airtrack, and trampoline as well instructor spotting to help you achieve your goals.
WHAT YOU'LL LEARN
In our level 1 flipping course you'll learn how to backflip, frontflip, and sideflip. Our experienced and certified instructors will be leading all students through all of the proper progressions to achieve their goals. Students will have access to multiple mats, a trampoline, an airtrack, a stuntbag, and certified coaching.   This 6 week course is designed by our staff to help you safely learn how to execute parkour's fundamental flips.
In our level  flipping course students will learn how to add twists to their flips, learn how to do flips using obstacles, and learn how to modify their level 1 flips. In order to be eligible for the level 2 program students must have completed level 1 or must pass the coach evaluation.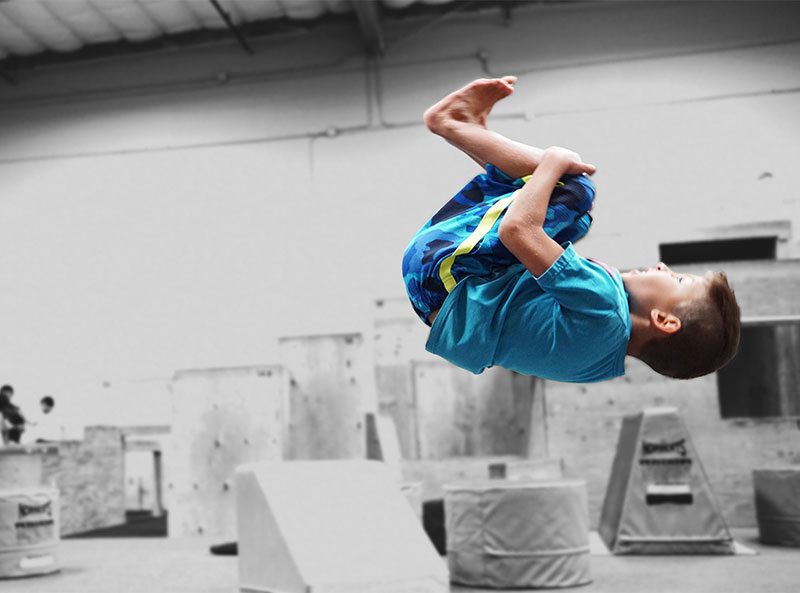 Level 1 (Ages 10 & Up)
Mondays
5:30PM – 7PM
Level 1 (Ages 10 & Up)
Mondays
5:30PM – 7PM
Level 2 (Ages 10 & Up)
Mondays
7PM – 8:30PM
WHY A FLIP COURSE?
So many people get into parkour because they want to learn how to backflip. And learning how to do flips safely can be a fun way to introduce people to the sport of Parkour. Parkour itself is much more than doing flips. It requires strength, coordination, balance, and most importantly, persistence. Perhaps through learning how to flip students will be curious about our sport and give it a try. Either way learning how to flip is a great way to challenge yourself, improve fitness, overcome fears, and add fun to your workout.
The Flip Courses are currently held every 6 weeks
Level  1 (Ages 7-9)
Mondays
4PM – 5:30PM
Level 1 (Ages 10 & Up)
Mondays
5:30PM – 7PM
Level 2 (Ages 10 & Up)
Mondays
7PM – 8:30PM
"The owners and the staff are so friendly, walking in is like showing up at a friend's house. The women's class is outstanding and friendly to all levels of fitness. The facility is amazing and growing. With a huge spring floor, bars, an airbag, a climbing rope and so many surfaces to get creative with, its perfect for beginners and pros."

Sherry Burch
"I love this place. It makes me feel like I'll never be too old to run around like a kid on a playground. I've taken a few parkour classes, and the instructors are amazing at teaching you a different skill set each time. There's always a fun, new course when I come down for a class!"

Alice P.
"This place is a gem. The owners are wonderful and every staff members been extremely kind and supportive. It looks like a very intimidating sport, but their ability to break down each move makes it possible for just about anyone to participate. Super stoked to have found this place."

Sarah H.